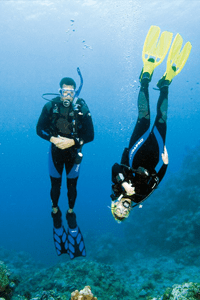 Price of PADI Diving courses (Scuba Diving)
Next you can see the prices of the most popular diving courses and of our activities. If you are already a Dive Master, Assistant Instructor, Open Water Scuba Instructor, IDC Staff or Superior, do not doubt to come and visit us! We are constantly enlarging our work team. . You can consult our Diving Courses section, where you will be able to find answers to the most frequently asked questions. The courses include the materials, book, equipment and insurance for the duration of the course as well as the certification. We count with a digital option through which you can take the theoretical part from home. .Check the sites of each course for further information. The practices are performed inside our installations in Portonovo. If you have any doubt, please contact us via e-mail on buceo@portosub.es or via phone 607 083 551.
Open Water
no previous experience
Theoretical lessons (Online or in-person)

Equipment and insurance during the course
Advanced diving
It requires Open Water course
Theoretical lessons (Online or in-person)
Rescue Diver
Check requirements
€
400
requires Emergency First Response
Theoretical lessons (Online or in-person)
Diving course, promotional prices
Product
Price
Discover Scuba Diving
From : 45,00

€

Diving complete package: Open Water + Advanced + 20 dives
1.300,00

€

Pack Initiation to diving package: Open Water Diver + 10 dives
705,00

€

 60
PADI Open Water Diver

From : 340,00€

PADI DiveMaster
650,00

€

PADI Rescue Diver
300,00

€

Emergency First Reponse (EFR)
150,00

€

PADI Advanced Open Water Diver
300,00

€

Adventure Diver
200,00

€

PADI Scuba Diver
280,00

€
Diving courses: Specialities prices
The best experience that you could ever gain. You will take speacialised practices through our PADI instructors with a variety of possibilities to combine. Besides you will be accumulating the necessary specialities to get an access to the Master Scuba Diver certification. Materials, practises and certificate included.
Search and Recovery
From Open Water
Enriched Air Diver Nitrox
Nitrox Course
Theoretical lessons (Online or in-person)
Deep Diver
Advanced required
Increase your limit to 40 meters
Prices of departures and diving immersions
All immersions take place with both cylinder and Todas las inmersiones son con botella y plomos desde barco.. You can also rent a full diving suit if you want to! We depart every day, depending on the state of the sea. All the immersions count with a professional guide. We also have offers on both .
Rent of Full diving equipment

+15€

It consists of a jacket, regulator with octopus and manometer, diving suit, mask, slippers, flippers and gloves.
Diving on the Cíes, Ons and Sálvora islands
(Atlantic Islands National Park)
It is mandatory for diving on the Atlantic Islands to send your personal data to the center in order to acquire a permission. Your ID card, your level of certification as diver and the data of your insurance in force at the time.  In case of not having an insurance in force you can always hire it with us.
Snorkeling on the Ons island

40€

Minimum groups of 4 people

Discover Scuba Diving in the Ons island

desde 55 €

Diving on the Ons island/ on the Sálvora island

40 €

Diving on the Cíes islands

55 €

Double diving immersion on the Ons islands/ on the Sálvora islands

65 €

Double diving immersion on the Cíes islands

80 €

Renting of the diving equipment for immersions on the Cíes islands, the Ons islands and Sálvora

10€