p>
Last Sunday May 27th we had an excellent immersion in the Afroditi-P Wreck. The clarity and tranquility of the waters allowed us to be one hour under the water.
For those who do not know it, it is a Panamanian cargo ship, which ran aground on March 9, 1982 in the Ría de Pontevedra.
It is perched on a sandbank with a maximum depth of 15 meters.
p>It is a refuge for a great quantity of marine life, with spider crabs, phaneca and sea bream everywhere.
Rest of the sunken ship
Due to its metallic construction and the wear of time, its deteriorated structure can be appreciated at the bottom. In the immersion two big pieces of the hull of the same can be crossed.
In the surroundings other small loose parts are found, although they are not usually visited by the lack of interest.
p
It is place of accumulation of enough nets of fishing of unwary people. In Portosub we try to keep the dive site clean, however there are remains difficult to remove due to their volume.
The upper video was provided by one of the divers and mounted by us. In it you can see the state of the ship.
Other shipwrecks in the area
We have several exits, both old sunken lighthouses and boats. All of them depend on the climatology and the visibility present in the site. If you want to join this type of dives it is important that you contact us and we will be able to warn you of the best days to go. The Mourisca Lighthouse is a great visit, as well as the Cordero González Wreck, which is close to the Afroditi-P. However, the latter is a dive reserved for advanced divers for its 25 meters depth.
Programmed Departures
The information of our departures is sent by WhatsApp if you have requested the weekly announcements in the center. If you want to be informed by message, please contact us. There are already more than 500 people that we notify every week so that they can sign up for our departures.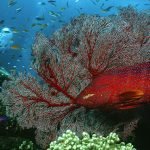 For those who have never done a diving course can seem complicated. Nothing is more certain of reality, it is quite simple if we know the classification used to progress in recreational diving. In this guide I intend to make it clear what each course is and how to choose the right one depending on your purpose.