Get to know the charms of our estuary from a privileged situation on our SUP PADDLE SURF boards. Live this unique experience with your friends and take the opportunity to do sport and relax at the same time. The water sports activity that is in fashion.
Reservations:
Reservations are only accepted through the web. We do not accept reservations by email or telephone.
You can also do it directly in the store according to availability.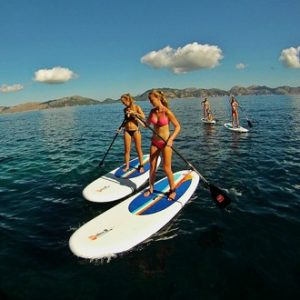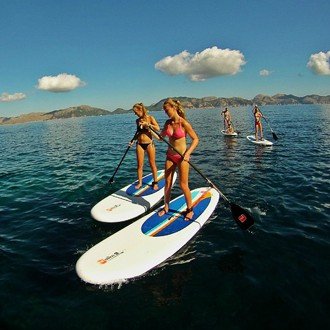 You can cruise Stand Up Paddle Surf from Portonovo, or you can rent your paddle surfboard all day long. You can take it wherever you want. The daily rental cost is 50 €. The boards have removable keels for safe transport . Getting around is not a problem. If you indicate to us the zone where you want to practice, we will approach it to you (limited to near zones). The board is inflatable. Contact us for more details.
That includes the rent of the boards of Paddle Surf
The rental includes board, paddle paddle surf, inflator and transport backpack in the case of daily rental. In the hourly rental, it includes the board and the paddle. The price per hour is 15 € per person. All our boards are made of resistant and inflatable material, to facilitate their transfer. Our types of boards allow you to stand up easily.
Equipment rental is 15 €/hour per person. In case of requesting a board for two people, 25€ will be charged. Four boards can be rented at the same time.
Special prices for groups
If you want to practice paddle surf in group, contact us and we will make you a special price.
Hire a Paddle Surf Instructor
If you want to start in this world of SUP Paddle Surf hand in hand with a monitor, we provide it. Also in case you want to make a guided route. The cost of the instructor is 25€ per hour practical or theoretical, regardless of the number of people in the group. You will learn how to choose the stand up paddle surfboard and how to stand on the board.
SUP and Water Sports -> children and babies
We have life jackets for small children. It is recommended that the child knows how to swim, in case he falls into the water. There are mothers who want their child to live the experience and take pictures. We strongly recommend that you do this with the minimum level of water under the board and always with a helper. Remember that a child's life is worth much more than a photo.
Fitness, Yoga on the Paddle Surfboard
If you want to do yoga on our paddle surfboards just enjoy it. We will provide you with our material and we will advise you on the best place according to the waves of the day. Both Yoga and the sport of Paddle surfing are excellent to improve our form at the same time you have a good time. If you have knowledge of yoga, but do not know how to use the oars, encourage yourself to take that step with our Paddle Surf instructor. Don't let an oar be the barrier that separates you from enjoying the sea.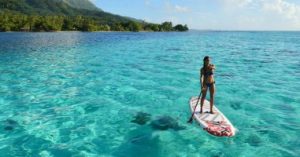 It is recommended to have the minimum level of waves. That's why we will recommend areas where you can do the activity with fun and safety.
Take the oars and improve your health by doing sports
At present there are few activities in which the whole musculature is worked without impact, as much in the joints as in the skeleton, as in the paddle surf. This is one of its main attractions from the point of view of the benefits for health, to which are added others such as:
Tonification of the trunk and legs. With only the involuntary movements that are made to maintain the balance in the table, an important work of tonification of the muscular groups of trunk and legs is carried out, and a considerable improvement of the reflexes is obtained. In addition, rowing also works the muscles of the arms. Thanks to muscle and tendon strengthening, problems of the hips, knees, ankles, back and herniated discs are avoided.
Favors the incorporation to the exercise routine after suffering an injury. When one has just recovered from an injury, many times one does not feel safe in spite of having the medical discharge. Paddle surfing is a sport that does not require a large physical form in its most basic levels, nor is it necessary to make very sudden movements, which is why it allows you to exercise in a fun way.
Contributes to energy expenditure, this is ideal for keeping the kilos at bay. Although many people do not see paddle surfing as a very complete sport, as it has sometimes become popular as an activity to spend a leisure time with friends, is an exercise involves a significant expenditure of energy, so it is ideal to keep the kilos at bay.
Reduce stress levels. The paddle surf is practiced outdoors and in natural environments; this causes an extra relaxation compared to any indoor physical activity, which favors the control of stress, while enjoying spectacular views and the breeze on the face.
The practice of PED is not suitable for everyone. Thus, people who usually have hypotension problems, those who tend to get dizzy easily when spending long periods exposed to the sun, or those who suffer from hypoglycaemia due to poor glucose control due to diabetes, should avoid this activity at the risk of fainting, complicated to treat in the water.
In addition, being an exercise in which balance is fundamental, it is also not suitable for people with ear problems that affect this sense.
As always, the doctor will be the right person to evaluate if the paddle is suitable for you in the event that you suffer from some type of chronic disease. The specialist will indicate which is the most recommended sport and at what intensity you can practice it.
Why this type of surfing?
In Spain and much of Europe has had great acceptance this form of surfboard. This is because large numbers of people can practice it safely and standing is very easy. It is being especially claimed by everyone in the tourist areas of our coast. To stand up is very simple, even a child of few years can do it.
You can choose where to go easily, do you want to know how? reserve right now and control the direction of your board while working the whole body.
Everything less than 500 meters away
You will carry out the activity in one of the best Galician beaches and less than 500 metres from many leisure and restaurant options. Experience the sensation of visiting Portonovo beach. Practice with your friends one of the best sports to enjoy. Older people can enjoy a walk by the sea accompanied, without having to row.
We recommend you to contact us, to recommend the best days depending on the waves and wind. If you have training with large boards such as longboard surf, it will be very simple. You can take our boards as a support for spearfishing. The Paddle Surf (SUP) can also be practiced in rivers and lagoons, as long as they take into account the currents and advice of the area. Also you can surf waves with the help of your shovel. If you want to catch waves, you will need a little more balance.
Remar has no age, search right now with whom to share the most beautiful areas of Galicia.
Combine your visit with other activities