The beach of A Lanzada is an ideal place for the initiation in the practice of the surf. In it you will find the ideal conditions to initiate you in the surf. Do not miss the opportunity to enjoy this sport. You will have an experienced instructor who has managed to make many people surf from scratch.
Surfing courses are taught from beginner's level (without previous experience) to technical improvement.
We always create small groups to focus on your learning.
In case of bad sea, we have alternative activities that will strengthen your teaching. Also in case we don't have waves.
All classes are 120 minutes (2 hours)
Half month
This is my thing
Schedules of our surf school
We are present on the beach every weekend of the year, and daily in high season. Classes are held at 11:00 and 13:00 in the morning. In the afternoon at 17:00 and 19:00.
Special offers during the bridge of May 2018. If you want to learn surf do not hesitate
In Summer we will be enjoying surfing every day. Visit our school to do a surfing course or to know the rental of equipment. 
The classes include all the material necessary for the development of the surf: surfboard, thermal protection neoprene, Instructor, civil liability insurance and accident insurance.
Book now
Class are limited to provide the best possible experience.
Book in advance to secure your place.
Discount vouchers for Surf lessons
You choose when to take the classes (subject to acceptance by the school).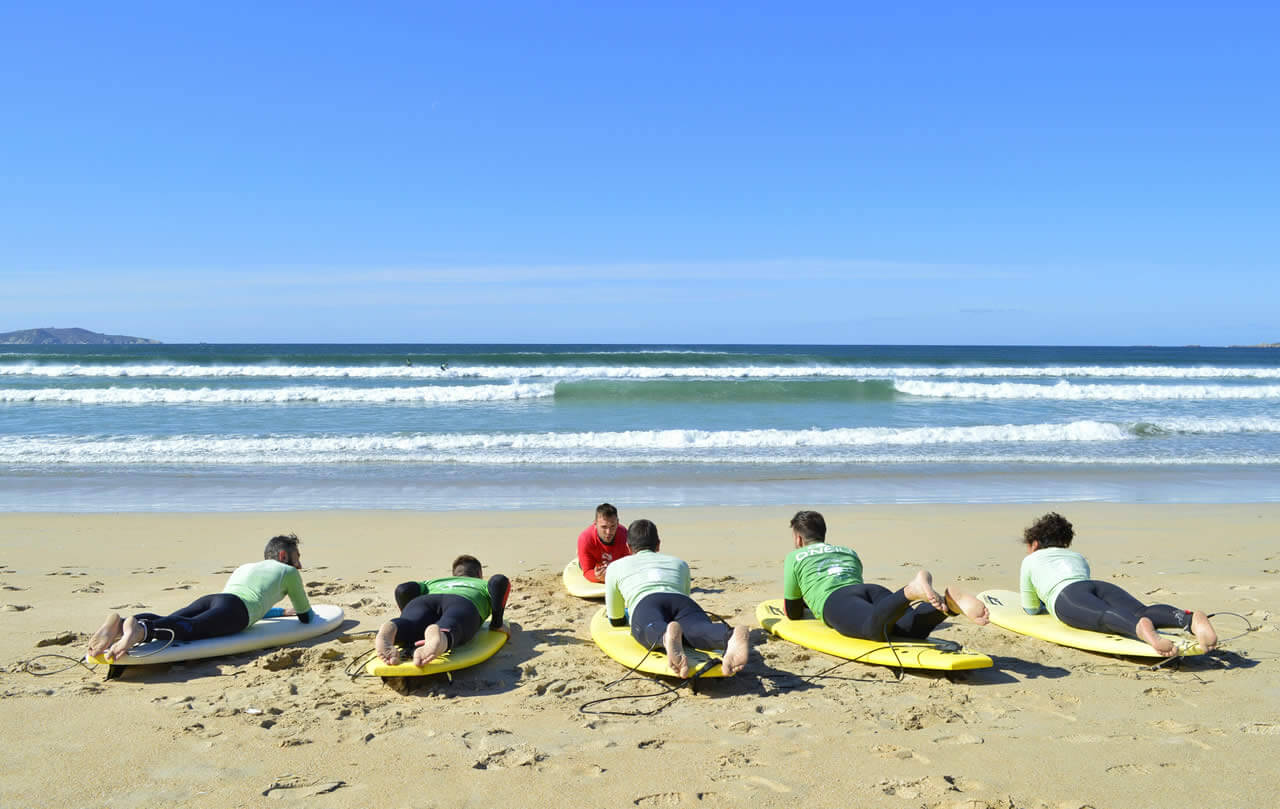 Surf discounts for groups
If you are a group of more than 4 people, a large family, a former student or you are registered in O Grove, contact us and we will give you our special discounts.
We currently do not have Surf Camp at the school , because the offer of accommodation in the area is excellent.
You can get beachfront apartments at very good prices.
It is essential for children to know how to swim comfortably.
The participation of parents in activities is recommended.
If you would like a private lesson just for you, or for your group, contact us and we will offer you a special price.
Our instructors can give classes at all levels, from beginner to advanced.
How to get to the beach of A Lanzada
The transfer from Portosub Diving Center to A Lanzada Beach is at our expense. You will not have to worry about anything other than wearing your flip-flops, bathing suit and towel. If you wish to go on your own to the class area, you can do so using the following location:
42°27'02.4″ N
8°52'31.7″ W
The address is Praia de A Lanzada, O Grove, Pontevedra.